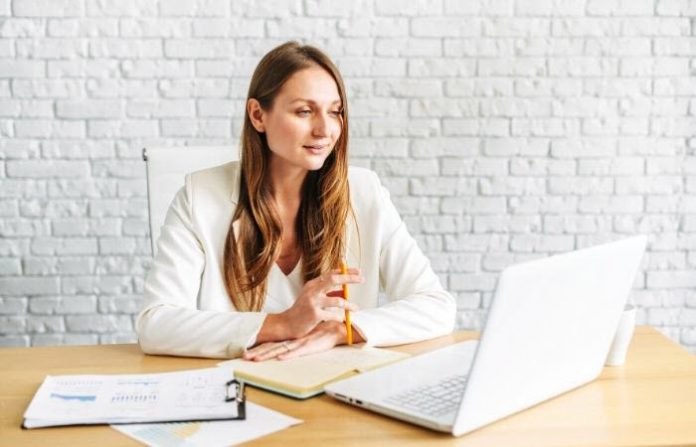 So you have a pending project in the pipeline and need more hands-on-deck? Freelance software developers can save the day, BUT…
Unfortunately, the challenges associated with searching, testing, and onboarding a truly great freelance developer candidate cause most employers to give up before they even start. You are looking at recruitment expenses, time-lapse, and the struggle to find the right candidates in a sector currently plagued by a mix of both good and bad apples in one basket.
While hiring freelance developers is not a walk in the park, the benefits are worth the effort. In this article, we'll provide detailed guidance to help you dodge the common pitfalls and set yourself up for success.
Popular Regions To Outsource To
The majority of companies hiring freelance developers favor outsourcing to Eastern Europe, North America, Asia, and the Middle East in that order. Often you will never go wrong with the first two, but this is not to say you can't find real gems in Asia and the Middle East.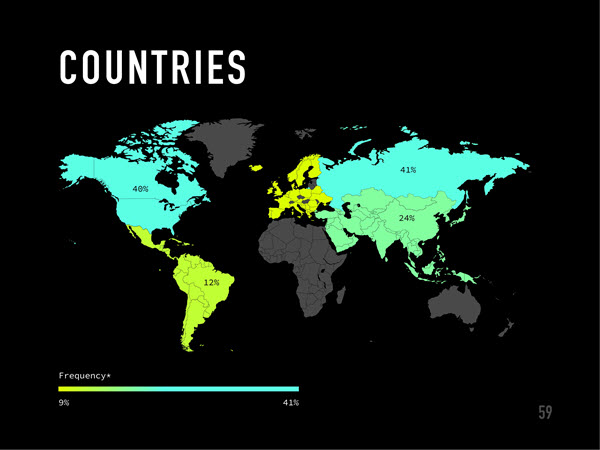 Establish Your Expectations
Before you set about hiring new developers, make a quick rundown of what you want to achieve with your workforce. This way, you can set a reasonable budget in accordance with the costs and talent you expect to meet.
What tasks should you assign to freelance developers?
Most businesses assign freelance developers simple tasks such as edits, quality assurance, or integration with third-party apps. Only very few companies trust freelance developers with software architecture and security tasks. Usually, such companies already have well-defined structures for protecting their sensitive information. If you are not confident about your security, it's best to assign low-risk tasks to freelance developers.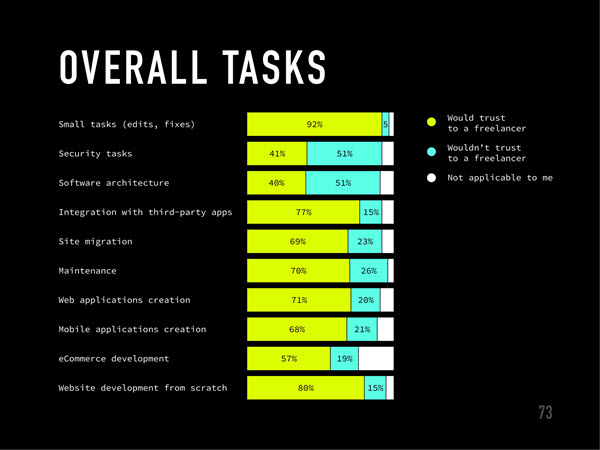 The Hiring Process
Searching for a good developer can take months. However, when it comes to freelance developers, the process is somewhat simpler. You are looking at a procedure whereby you can just look up a specialist on a dedicated platform, reviews included. A simple inquiry using the method of your choice can quickly provide you with a shortlist of contractors who can start working on your product within a few hours.
Below are a few steps you can follow to make your selection process more insightful and yield the best results.
Scan The Portfolio
It's not enough to just have a developer claim to be competent in something. Make sure you review their portfolios along with the resumes. Developers typically post code samples on resources like GitHub; these are a great place to start.
You will also need to contact traceable references from other people or organizations they have worked with previously. This will help you determine how they will fit into your team.
Test For Proficiency
One great way to test a developer's proficiency is with test tasks. You can put together a task that helps you gauge the candidate's approach and performance on the tasks they will be handling on the project. You can even have a trusted party evaluate the code written by the candidate to save on time.
If you have access to your potential hire's Stack Overflow and GitHub, pay attention to the feedback and comments other developers leave on their code for a quick review.
Conduct A Personal Interview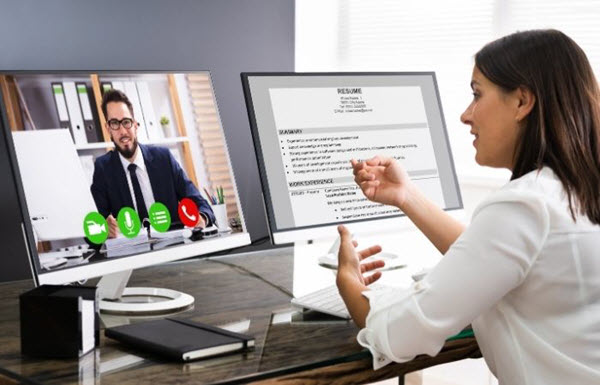 Never underestimate the power of face-to-face interactions. Even an interview conducted via platforms like Skype, Slack, Zoom, etc., can help tell you a lot about a candidate. You can spot someone who could be difficult to work with from the way they talk or behave during the interview.
What To Look For In A Developer
It is of the utmost importance that the specialist you hire is competent and easy to work with. Here are some of the things you should consider in each potential hire.
Communication Skills
Engaging freelance developers often means collaborating remotely. Thus, communication skills are a must. You will need to be able to communicate tasks, procedures, and outcomes effectively with every member of your team. Be sure to solve language barriers as well. If your team uses English for corporate communication, then everyone should have professional proficiency in the language.
Work Ethic And Ability To Adjust To Company Culture
Be sure to explain the guidelines for the project to your developers. Ensure they clearly understand the tasks they are to perform, technologies, deadlines, and your preferred methods of doing things. This will help you stay on the same page and iron out any issues that could cause confusion in the future.
Passion For The Craft
A passionate developer is a gold mine for any business. Does your freelance developer genuinely love their craft or they just want to get it over with and receive their check?
If you can get a developer with vast experience in the technologies you will be working with, you can rest assured they will likely be self-starters and bring more innovation into the project. A candidate with contributions to open source solutions is a real asset.
Benefits Of Hiring Freelance Developers
Evidently, freelance developers offer enterprises something their in-house companions cannot. The biggest reasons for hiring freelancers often come down to the following:
Affordability
Freelancers happen to be more affordable compared to in-house developers. Companies can even negotiate the price without risking pay inequity lawsuits.
Availability Of Skilled Personnel
With the ongoing high demand for developers, freelancers enable companies to expand their options from a larger selection pool. Freelance developers also offer a wider variety of available skills.
Flexibility
Unlike an in-house developer who only works on a fixed schedule, freelancers have the freedom to choose their work hours. Thus, if your project has a looming deadline, you can negotiate with a freelancer to get it done in a short period.
Freelancers Compliment Distributed Teams
For organizations already working with distributed teams, augmenting your current team with freelance distributors makes more sense. Budget-wise and productivity-wise, it is easier to add new developers to the workflow if they already work in an environment similar to your established distributed team.
Conclusion
Businesses considering hiring freelance developers have to be thorough in their search to avoid common pitfalls and bad experiences. For startups, knowing what to do and what not to do can mean the difference between success and failure of the entire operation.
Although you can find skilled developers via job boards, it is best to use platforms that provide you with vetted candidates, so you know what you are getting into beforehand. Remember, 81% of employers who have successfully worked with freelance developers did so via trusted references.
Like this Article? Subscribe to Our Feed!